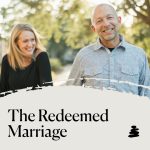 There is really no way to avoid conflict in marriage. The danger is when a couple begins to normalize conflict without discovering ways to resolve conflict before it escalates into something more devastating. No matter where you are on the spectrum of conflict, even if it has moved beyond the ordinary, you are not alone. Rusty and Heather point couples to hope through their story of redemption.
Website: The Redeemed Marriage
For more information on "The Heart Talk" method of communication that was discussed in this week's episode, listen to Episode 11: Let's Have a Heart Talk.